Onboard System
With the highly productive function and performance on each level, N41 has a wide range of applications such as surveying, engineering and constructions. The internal Bluetooth, SD Card port and USB afford a direct and fast data transfer between total station and PC.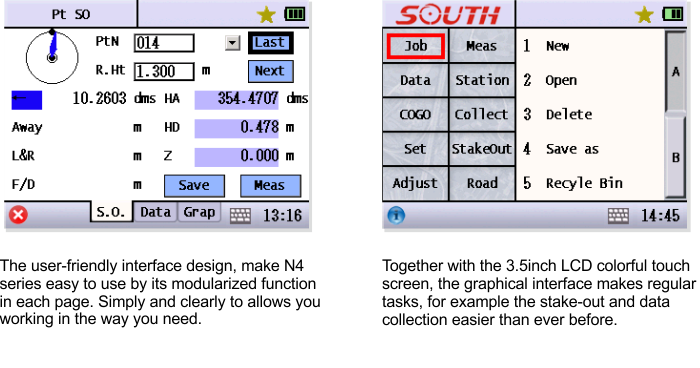 Tunnel System
With the characteristics of simple operation, graphical display, rapid and accurate calculation, it can easily realize the section data acquisition, analysis, construction stake-out, random detection in real-time. This software is convenient for operator to finish the tunnel project, also meet all the requirement of saving money and time.
· Real-time graphic display for data collection.
· Reliable analysis of section measurement result,  fast calculation for tunnel overbreak and underbreak.
· Auto-match and calculation among designed flat curve, designed vertical curve, theoretical section and actual measuring data.
· 3D coordinate of blast hole profile, can stake-out directly in tunnel.

Specification
Distance Measurement
Reflectorless
1000m
Single Prism
5000m
Accuracy: Non Prism
3+2ppm
Accuracy: Prism
N41: 1+1ppm
N40: 2+2ppm
Sheet
3+2ppm
Measurement Time
1.2s In Fine
0.2s In Tracking
Atmospheric Correction
Manual Input, Auto Correction
Prism Constant
Manual Input, Auto Correction
Temperature Correction
Sensor Reading
Distance Reading
Max: 99999999.999m Min: 1mm
Angle Measurement
Accuracy
N41: 1″
N40: 2″
Method
Absolute, Continuous
Disk Diameter
79mm
Detection Method
V: Quadruple, H: Quadruple
Angle Reading
Min: 0.1″
Telescope
Image
Erect
Tube Length
152mm
Effective Aperture
45mm (EDM 47mm)
Magnification
30x
Field Of View
1°30′
Resolving Power
3″
Minimum Focus Distance
1.5m
Reticle Illumination
4 Brightness Levels
Keyboard And Display
Keyboard
Alphanumeric 30 Keys
Display
3.5 Inches, Color Touch LCD
Resolution
320*240 dpi
Position
Face 1, Face 2
Operation System
Operation System
None
Processor
None
Memory
98M, 833000 Data Block
Interface
WIFI
None
Bluetooth
BT4.0
SD Card
Yes
Serial Port
Yes
Mini USB
Yes
Mirco USB
None
USB Flash Disk
Yes
SIM Card
None
Compensator
System
Liquid, Dual Axis
Working Range
±6′
Accuracy
1″
Plummet
Laser Plummet (Default)
Accuracy
±1.5mm @1.5m
Laser Brightness
5 Levels Adjustable
Wavelength
635nm
Laser Class
Class 2
Laser Power
0.5mW
Optical Plummet (Optional)
Image
Erect
Magnification
3x
Focusing Range
0.5m —
Field Of View
5″
Accuracy
–
Battery
Type
Lithium
Voltage
7.4V
Operating time
8 hours
Vial
Plate Vial
30″ /2mm
Circular Vial
8′ /2mm
General
IP Rate
IP54
Temperature Range
-20°C — +50°C
Dimension
206*200*353mm
Weight
6.0kg
Others
Trigger Key
Others
Camera Optional
Others
Auto Height & Guide Light (Optonal)
Note: All information above is subject to change without any prior notice.